Problem Solving & Idea Generation
This page will be updated and completed as soon as I have the time - any suggestions welcomed at creativeideas@creativeideas.20m.com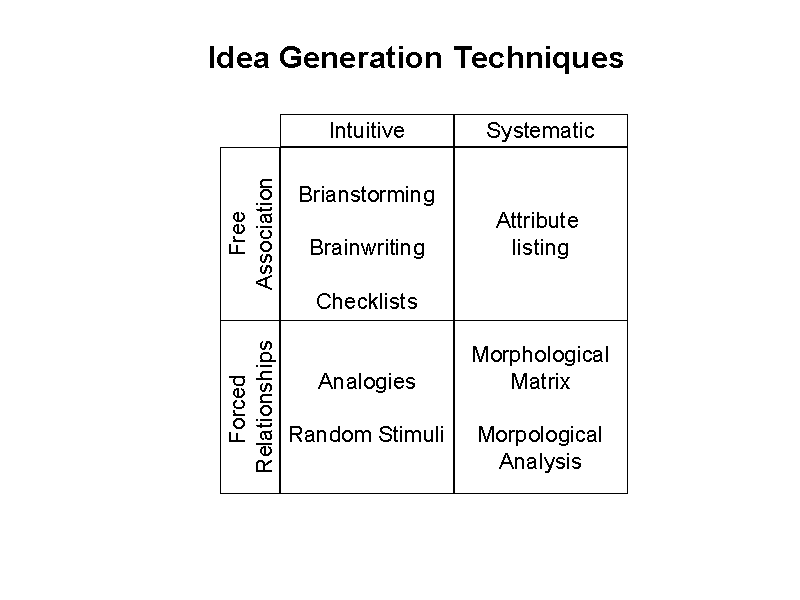 Defining the Problem
Cognitive mapping: Getting Started with Cognitive Mapping by Fran Ackermann, Colin Eden and Steve Cropper, Management Science, University of Strathclyde
About conceptmapping from the on-line ObservETory on Educational Technology
Concept Mapping Concept Mapping articles and software. Includes link to free download of PIViT.
Problem Solving
High-Performance Problem Solving Using the SiTNA Alternative for Generating Synergy and Commitment SiTNA is a holistic way of redefining problems (the biggest step to solving them!) and stands for Situations That Need Attention. It has parallels with Professor Peter Checkland's Soft Systems Methodology. Click here for a good introduction to this holistic approach.
Creative Whack Resource to Start the Thinking Process
GENERAL SUMMARY
The Seven Creativity Tools From GOAL/QPC Research
The Top 10 Ways To Increase Your Creativity From Martin Sawdon of Coaching Works
Five Simple Steps to Creative Thinking Copyright © 1998-1999 Lewis Publishing
INTUITIVE TECHNIQUES
Brainwriting
Brainstorming
Checklists
A checklist allows ordering of the problem solving processs. It can provide a list of the points to be considered or directions to explore when looking for a solution - or even if it needs to be pursued. Example questions are:
Who may already have solved this problem?
Is the problem correctly defined?
Do I/we understand this definition?
What further information, tools or resources might I need?
What will be the outcome if I/we fail to solve the problem?
Will the answer to the problem be acceptable?
Analogies
Basically, this means making a lateral connection between something that has direct or indirect similarity to the problem under review. The principle is that odd or "off the wall" analogies can stimulate the mind to operate "out of the box" and away from it's normal confines and perspectives.
Random Stimuli
Concept and Mind Mapping,
Big Dog's HR Link Page - Training and Development Subjects This link will take you to the Mapping section of this very comprehensive resource page. Masses of interesting and useful information on training and development here.
SYSTEMATIC TECHNIQUES
Attribute Listing
Morphological Analysis
Morphological Matrix